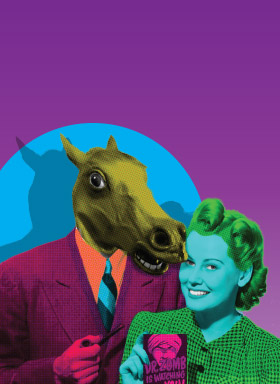 Starting Friday 7 June, Victoria's premier improvisational theatre company, Impro Melbourne, and Australia's top impro comedians, The Big HOO-HAA!, join forces to create the best sketch and improvised comedy the country has ever seen. Yes! That's an amazing room full of talent!
Where

The Space, 5 Carlton St, Prahran

When

7.30pm – 9.30pm
Playing one Friday night a month until 20 December, at The Space, Prahran, Impro Sketch is quick-witted, frenetic fun, staged in the tradition of such impro comedy institutions as the Upright Citizens Brigade (Amy Poehler, Will Ferrell, Jack Black, Tina Fey, Robin Williams) and Second City (Steve Carell, Mike Myers, Andy Dick).
Join the amazing cast for a night of scripted comedy, honed and crafted in the comedy crucible of their minds, followed by an hilarious set of impromptu comedy sketches, live and completely unscripted. It's unpredictable. It's spontaneous. It's 100% comedy.
Impro Sketch includes some of Australia's fastest and most furious comedy talent: Jimmy James Eaton (Sketchual Healing, Channel V, National Improvisor Best and Fairest 2009), Jason Geary (The iSelect Guy, National Theatresports™ Champion 2010), Lee Naimo (Axis of Awesome), Lliam Amor (National Theatresports™ Champion 2009), Liam Ryan (2012 MICF Golden Gibbo nominee, Shakespeare Fight Club), Rik Brown (National Theatresports™ Champion 2011), Luke Ryan and Wyatt Nixon-Lloyd (Nickelodeon), Michelle Nussey (Best Actor 2012 48hr Film Project, National Theatresports™ Champion 2010), Mark Gambino (Victorian Theatresports™ Champion 2010) and Amanda Buckley (Sydney Theatresports™ Cranston Cup Champion 2010).
Show Dates
June 7, 2013 @ 7:30PM

July 5, 2013 @ 7:30PM

August 2, 2013 @ 7:30PM

September 6, 2013 @ 7:30PM

November 1, 2013 @ 7:30PM